What Makes a Tweet a Good Tweet?
Twitter is an important platform for sharing your app's message and connecting with customers. A good Tweet can help establish your brand, share relevant news, and spark conversations from followers. It's essential to write tweets that will stand out in the Twitter feed and represent your app in the best possible light.
The best Tweet is brief yet powerful: something that catches people's attention and encourages them to interact with it – much like a thought-provoking headline. The most engaging tweets have interesting content that encourages readers to learn more or start a conversation, while staying true to the core brand message. Writing these types of tweets isn't easy though – but with Notivize AI Copywriting Tools, it's never been easier!
The Notivize AI Copywriter Writes Tweets That Work
Notivize AI Writer helps marketers craft powerful tweets right away without worrying about typo errors or bad formatting. You can easily rephrase copy and format it according to Twitter standards; shorten long articles into a summary tweet; create compelling messages from an idea; or turn trending stories into engaging posts from your brand's point of view directly within minutes. By using Notivize AI copywriting tools you'll be able to quickly compose the perfect post for all readers!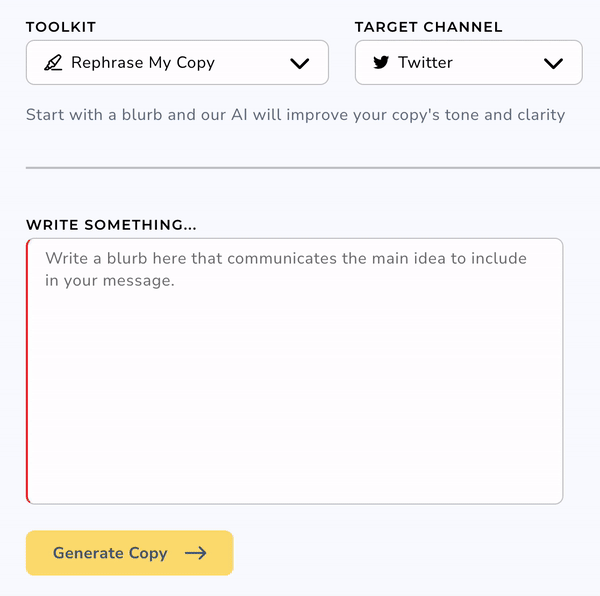 Post Daily And Transform Trending Stories On Notivize Into Tweets From Your Brand
Working with popular trends helps keep your audience engaged: use content-matching tools on Notivize so you stay up-to-date on trending topics each day! With these insights at hand you can then easily spin current topics into interesting announcements related specifically to what your app does - this way you can further spice up conversations around it by offering additional insight about its features or simply introducing new ones for everyone's benefit!
Try Notivize -- It's Free To Sign Up And Get Started
With intuitive dashboards designed specifically for marketing teams, marketers will love using this product while they promote their apps across multiple channels including email, SMS, mobile push notifications Slack Discord & Twitter accounts in one go – no prior coding experience required!.
Test out how easy writing big impactful messages can be when using AI copywriting – sign up today - it's free to get started!